A notable irony: Despite the fact that the apple can flourish and produce beautifully in California, there are very few varieties that can be considered "indigenous" to the region. Maybe three California varieties of historical significance come readily to mind: Skinner's Seedling (aka Santa Clara Pippin), Hauer Pippin, and Sierra Beauty.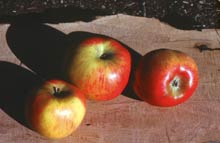 Sierra Beauty Apple - Discovered as a seedling high in the mountains above Chico at the end of the 19th century. Offered by nurseries for a few years, it became extinct except as an heirloom of the Gowan Family of Philo (Mendocino County) until "rediscovered" around 1980. Though not an Etter creation, this California native is the kind of apple Albert Etter would have endorsed:
striking appearance, brisk flavor, and firm texture.
THE ORIGINAL ETTER APPLES
And then there are the varieties bred by Albert Etter of Ettersburg....
As a boy growing up on a farm near Ferndale CA, Etter displayed a precocious talent for horticultural experimentation. He combined aptitude with vision at an early age, making his life goal the creation of a new fruit varieties uniquely suited for California and the Pacific Northwest. While still in his late teens, Albert had the enormous good fortune to stumble onto the piece of land that was to become his ranch and experiment station.
The young Etter discovered this bench of forest land above Bear Creek during a fishing trip up the Mattole River Valley. Rugged and remote, the parcel was available for free through the Homestead Act. In 1894 at the age of 22, Albert was able to take possession of the dream place he came to call Ettersburg. Clearing and improving the land was a formidable task, but he was helped in the work by several of his brothers who homesteaded adjacent parcels. And so a life-long quest for new and better fruit varieties took shape in the wilderness...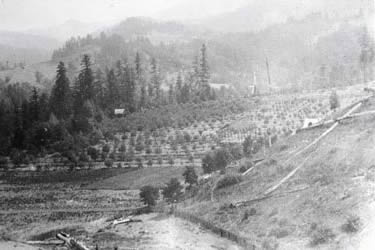 The Ettersburg "Experimental Place" - Laying out the grid circa 1900
Pomologists might divide Etter's career into two distinct halves: the strawberry legacy and the apple legacy. Actually, both projects began and proceded more or less simultaneously from the founding of his homestead experiment station. He followed the same approach for both strawberry and apple breeding: wide crosses between genetically diverse parents were favored, and his germplasm frequently derived from obscure, primitive, even wild material.
Etter's philosophy contradicted the conventional wisdom of the academic pomologists of his day. While many of these experts regarded him as an under-educatated fool, others, like Dr. George Darrow of the USDA, made the long pilgrimage to Ettersburg to learn from this inspired visionary.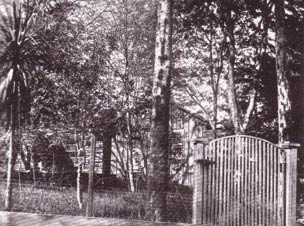 Ettersburg in its Prime circa 1925
Etter was a remarkably systematic worker with an ambitious agenda. His apple program began with his growing out a grid of seedlings to serve as understocks. By 1900, he was ready to top-work these trees to several hundred varieties obtained through the new University of California Extension Service. The goal of this trial was to identify varieties that had desirable qualities needed as parents for subsequent breeding experiments. Etter eventually made thousands of crosses, grew out rows of the resulting seedlings, and then grafted wood from these onto his understock trees.


Edward J. Wickson (1848-1923) - "Father of California Agriculture" and mentor to Burbank and Etter. A plum from the former and a crab hybrid from the latter bear his name.
While Etter was waiting for his apple experiments to bear fruit, his strawberry work made it "big time". The new strawberry varieties came to the attention of Edward J. Wickson, California's leading pomological authority and publisher of Pacific Rural Press. Under Wickson's media mentorship, Etter and Ettersburg became world famous for important new strawberries. Etter was proclaimed as a hillbilly successor to Luther Burbank, and dubbed "the man who made himself in the woods". By the 1920's, several of Etter's strawberries were being grown commercially in Oregon, England, New Zealand, and Australia.
| | |
| --- | --- |
| Etter Strawberry Beds circa 1915 | Trebla Strawberry |
Fame, however, did not lead to fortune, at least not for Etter. Others profited from his new strawberries, but Etter himself did not succeed as a businessman or nurseryman. Patent rights did not apply to plant hybridization until 1930. Isolated from railroad and trucking routes, Ettersburg was not well suited for berry commerce.
* * * * * * * * *
At any rate, Etter soon shifted his hopes and horticultural attention almost exclusively to his growing list of new apple varieties. His unconventional approach to breeding began to pay off in unique and novel fruit. He campaigned to gain the same kind of recognition for his apples that the Ettersburg strawberries enjoyed. To his great disappointment, neither the pomological establishment nor the general public showed much interest. Even his neighbors were skeptical. So - to regain credibility and salvage the prospects for his apple legacy - Etter entered into a partnership around 1940 with George Roeding Jr., the owner of California Nursery Company (CNC) of Niles District (now Fremont CA).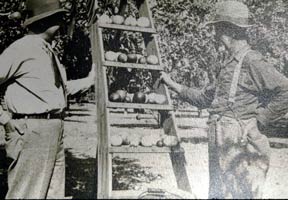 Roeding and Etter strike a pose and a deal
CNC was one of the foremost nurseries in California, and Etter surely hoped that this arrangement would secure his reputation as well as royalties. To this end, he entrusted to CNC some 40 of his most promising apple varieties. After a brief period of study and trial, Roeding decided to patent and introduce seven Ettersburg apples. These were described and illustrated in CNCs 1944 and 1945 color catalogs. (The patents all expired in the early 1960's).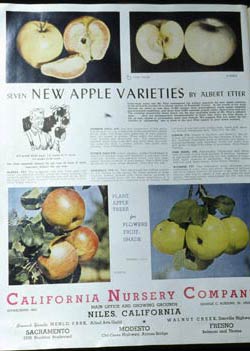 Etter's apples make their debut in CNC Catalog (1944)
Before Albert Etter died in November of 1950, he at least had the satisfaction that a portion of his apple legacy would be recognized and preserved for posterity. Sadly, the CNC / Etter introductions were not immediately successful and the nursery went through a period of traumatic financial decline which left it a shadow of its former glory. In the process, many CNC foundation trees were lost or mislabeled; trueness-to-name problems plagued the remaining varieties, and several seemed headed for extinction.
| | |
| --- | --- |
| | Etter orchard gate circa 1980 |
Meanwhile, back in Ettersburg, Albert's orchard was falling into neglect and decay.............
We began trying to sort things out in the mid-1970's, matching patent descriptions with fruit found in the ruins of Etter's experimental orchard. Our selections were confirmed when we located an orchard near Garberville that included trees of most of the Ettersburg varieties; these trees had been ordered from the CNC catalog around 1945. There are still a few mysteries surrounding the Etter varieties, and some questions may never be answered. We are grateful to Bruce Roeding, George Jr.'s son, for providing us with documents, notes and records pertaining to CNC's collaboration with Etter. Only time will reveal the value of these varieties, but we believe that a least some of them will be around for future generations to enjoy.
In addition to the seven CNC introductions, we include two other important Ettersburg varieties as part of the original Etter apple legacy: Waltana and Katharine. Both are seedlings of Wagener, ripen late here, keep well, and have their own intriguing story. Waltana is regarded as THE Etter Apple by local old-timers and Katharine, named for Albert's bride, was a personal favorite of the breeder.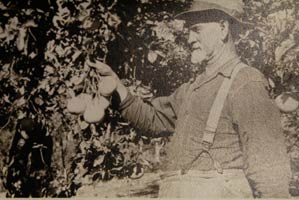 Albert Etter holding Etter's Gold
Descriptions of Original Etter Varieties
ETTER'S GOLD (P atent #659) This was Albert Etter's first apple selection and orignally bore the name Allgold. Its distinctive flavor reflects an unusual parentage: Wagener X Transcendent Crab. The apple is round, large, and an attractive golden yellow. It ripens over a long period beginning in October and the trees are exceptionally heavy bearers. A robust, aromatic fruit, it serves well for fresh eating, cooking, and cider ; it also keeps a long time in storage. Reports from colleagues/customers on the East Coast and in the Midwest indicate that it will adapt and perform admirably in these regions.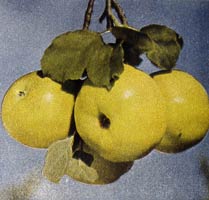 Etter's Gold
PINK PEARL ( Patent #723) Etter tested 30 pink-fleshed apple varieties that he had raised from seed of the Surprise apple. Pink Pearl is the one that CNC chose for its catalog. It is also presently Etter's most popular and successful variety - propagated by several nurseries and grown both commercially and by numerous amateur fruit gardeners. When well-grown, it is one of the most beautiful apples found in the orchard. Its distinctive shape - conical/tapered and ribbed - is somewhat reminiscent of the classic Calville Blanc, which might be the pollen parent. Its creamy translucent skin allows the deep pink color of the flesh to show through, giving it an attractive pearlescent aura. It ripens here from late August to early September and may be a bit brisk for some palates until fully ripe and mellowed in storage. At its best Pink Pearl is a delightful fruit for dessert and salad, - and makes remarkably colorful pies and sauce.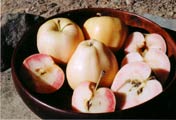 Pink Pearl
WICKSON CRAB (Patent # 724 ) Named for the great California fruit authority, this diminuitive crab hybrid is becoming Etter's most critically acclaimed variety. Bred from two obscure crab varieties (Spitzenberg Crab X Newton Crab), Wickson typically measures from one and one-half to two inches in diameter. An amazing amount of intense flavor is concentrated in this small package..... an extraordinary balance of sugar, acid, and aroma - along with a refreshing trace of astringency. Because of its high sugar content (almost 25 points in the juice), Etter recommended this variety for "champagne" making. It certainly produces an exceptionally rich sweet cider that will sparkle with effervescence when allowed the chance. The small fruit crushes easily in the grinder and gives a very high juice yield.
Wickson, however, is much more than a cider apple. Its powerful flavor makes it an extraordinary "Sweetmeat" confection for adults and sophisticated kids. Striped and flushed red over a cream ground, Wickson ripens here in mid-October. It can hang a long time on the tree, but its delicate skin does not hold up to rain.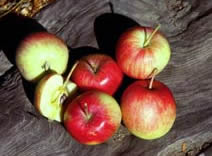 Wickson Crab
JONWIN ( Patent # 710) Etter recorded this as a Jonathan X Baldwin hybrid, but pomologists have their doubts - Baldwin is not usually cosidered a good pollen source. Nevertheless, this large handsome apple does strongly resemble its purported parents. Of all the Etter / CNC introductions, this was the most conventional and commercial. The trees are very productive and the large handsome fruit always attracts attention., Quality, however, is another matter and Jonwin does not measure up to either Baldwin or Jonathan as a dessert apple. It ripens relatively early in the season (late August to early September) and loses texture rapidly in hot weather. It would probably perform better in places where the summer temperatures are less extreme than Ettersburg.

Jonwin

Jonwin: Photogenically handsome,
fabulously productive, but perhaps
less than great.
ALASKA (Patent # 699) The name was apparently inspired by its large size and snowy white skin. It is claimed to be a seedling of the obscure English apple Bedfordshire Foundling, which was one of the old varieties Etter had grown in his original test orchard. When George Roeding, Jr. tasted the apple on a visit to Ettersburg he was very impressed. Soon after, he obtained a seedling from Etter dubbed Bedfordshire Junior - which was then renamed Alaska and patented.
Alaska resembles its seed parent in every respect , except for a subtle difference in color; Alaska is a "whiter shade of pale". Unfortunately, CNC had difficulties maintaining the identity of this variety, and there has been some confusion over trueness-to-name that still needs to be sorted out.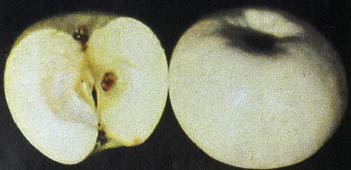 Alaska
HUMBOLDT (Patent # 658) This is another Etter/CNC variety that has been plagued with an identity crisis since its introduction.
From our reading of both Etter's and Roeding's notes, the original Humboldt was a seedling of the venerable Transcendent Crab, resembling its parent except for a significantly larger blossom and fruit. Etter called this "Jumbo Transcendent". Indeed, it was the large showy blooms that Etter felt made this apple a worthy candidate.
However, CNC decided to introduce another Etter crab hybrid (initially named "Emma") under the name "Humboldt Crab". The revised Humboldt was a yellow fruit and does not resemble the red-blushed/striped Transcendent. It also disappeared from commerce early on, and we have had some trouble re-collecting an authentic version of the Emma/Humboldt - i.e. one that matches the patent papers picture and description. We have at last located a plausible candidate that resolves this issue.
In addition, we managed to recover a crab hybrid that we believe to be Etter's original Jumbo Transcendent. To avoid any further confusion, we have re-introduced this apple under the name Eden Crab™. It is an excellent dessert and cider variety, and we regard it as the superior in fruit and blossom. It is listed and described in our section on the Greenmantle/Etter Selections of Sweetmeat Crab™ Hybrids.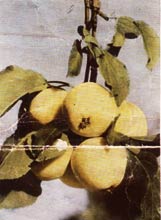 Humboldt Crab Patent Picture
CRIMSON GOLD (Patent applied for /never completed) The last of the CNC introductions, this is certainly not the least. Another small apple of crab ancestry, Etter commended it to Roeding for its exceptional culinary value: it could withstand lengthy boiling without losing its structural integrity. While this is a fact, we also regard Crimson Gold as an extraordinary eating and juicing apple. It ripens a bit later than Wickson (late October to November) and retains its quality longer. It is also substantially larger. As its name suggests, this is an attractive fruit, red-flushed over cream color covered with a plum-like bloom. Etter originally called it "Little Rosybloom".
Crimson Gold was the subject of mystery for some time. The seventh and last of the CNC/Etter apples to be introduced, the paperwork with the U.S. Patent Office was never finalized - for reasons that remain unclear. CNC soon lost track of it - and the variety grown and distributed by the U.S. Germplasm Repository at Geneva NY under the name "Crimson Gold" turned out to be Wickson. After years of exploring the remnants of the Ettersburg test orchard, we had just about given up on ever finding this variety.
Then, one wintry afternoon while climbing in the top of yet another multi-grafted test tree , we discovered a single live limb of the true Crimson Gold - complete with tarnished zinc label blending into the gray bark. Returning the next fall in hope of checking the fruit, sure enough - there was our elusive little apple. We boiled it for a couple hours to confirm our judgment: solid and golden as a cling peach.........This is an outstanding fruit that should not be lost ever again.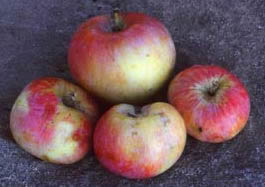 Crimson Gold
WALTANA Though never officially patented, the Waltana is generally regarded by Humboldt County apple growers as Etter's best and most important variety. It takes a long hot growing season to ripen on the tree, finishing here in late October to November. Growers in cooler coastal climates, however, have successfully finished the Waltana off the tree. The beauty of this apple is its ability to keep in good shape under primitive storage conditions until the following summer. An excellent all-purpose (dessert, pie, cider, etc.) variety, Waltana deserves recognition as one of the world's finest winter-keeping apples.
It was Albert's younger brother Walter (1882 -1946) who first recognized - and then championed - the excellence of this apple. He named it after himself and his wife, registered the trademark with the state, and top-worked a small commercial orchard to his personal variety. Well past their prime now, many of Walter's original trees are nevertheless still producing decent (except for the "worms") fruit crops. The Waltanas on these old trees are red-striped over a greenish yellow background; younger, more open trees produce fruit that is almost all red when fully ripe. Like Etter's Gold and Northern Spy, Waltana is a seedling of Wagener. Its pollen parent was probably the old English variety Manx Codlin.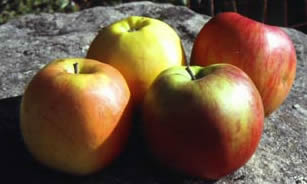 Katharine (left) and Waltana:
Yin-Yang variations on the theme of "Winter-keeper"
KATHARINE Also a Wagener seedling, this was a breeder's favorite that somehow never got officially introduced - yet another Etter mystery. Because it somewhat resembles its sibling Waltana, perhaps Albert hesitated to put forth a variety that would compete with his brother's "pet". The Katharine apple remained unknown for many years, a solitary tree growing next to the house Albert built for his mail-order bride. The neighbors thought it was just another Waltana tree....
Katharine does indeed resemble Waltana in many respects, reflecting their common seed parent. Like Waltana, it is a large, late-ripening (November), long keeping apple that serves well for both eating and cooking. Yet, there are pronounced differences. Where the Waltana is a handsome red-striped and green apple, the Katharine can be beautiful with richer, more subtle coloration. This Yang/Yin dichotomy applies also to flavor: the Waltana's is pleasantly robust, while the Katharine possesses sublime aromatics that linger on the palate. This complexity no doubt traces back to its pollen parent, the diminutive Reinette Ananas.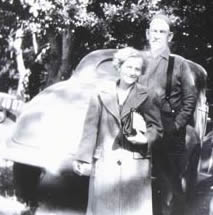 Albert with his wife Katharine (nee. McCormick , 1891-1979)