The fig is a hardy sub-tropical, originating in the Mediterranean region; it is the most cold-sensitive fruit we propagate. Despite its relative tenderness, the Old Brown Turkey fig in our homestead orchard has been bearing regular crops of fruit for over a century. For this reason, we readily endorse this variety for planting in our coastal mountain zone and areas with similar climate.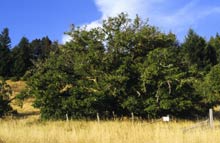 Huge Brown Turkey Fig -
Note shrubby growth habit, which favors cold-hardiness and longevity.
Figs, of course, are too tender to grow outdoors in many regions. And while they might survive the winter in milder climates, they may not bear well - or the crop may never ripen properly due to lack of heat. For these marginal sites, finding the best adapted variety is a critical consideration.
In addition to the Old Brown Turkey fig, we offer OsborneProlific, aka Neveralla, a high quality fruit that does well both in the mountains and near the coast. We also grow the popular BlackMission variety; this, however, is better adapted in areas with warmer winter and cooler summer temperatures. These fig varieties are all in the "common fig" category, meaning they need no pollination (caprification).
In a good year they well bear two crops: an early breba crop in July/August borne on older wood and a main crop ripening in September/October on the new growth. The main crop figs are typically more numerous, but not as large sized as the breba. Ripening takes place over an extended period and the last part of the crop never manages to finish developing before cold, wet weather ends the season. The success rate will vary from place to place and year to year.
The Desert King variety is a worthwhile option for those who have been frustrated getting other varieties to ripen. Desert King puts most of its energy into producing a large breba crop that ripens in July/August. The fruit is green on the outside with very sweet reddish flesh. The second or main crop never develops into ripe fruit..
Figs can be tempermental about producing and usually benefit from planting in the warmest sunniest site available. Beware of gophers. In frosty areas, figs survive and produce better when trained as multi-stemmed shrubs instead of trees. Our fig plants are not grafted - but are grown on their own roots from cuttings or layers....
* * * * * * * * * *
"On each successive day following the appearance of the first fully ripened fig of the second crop, you can count on any number up to a dozen 'secondary figs' being ripe and ready to fall into your hand, soft, with inflexed necks bearing the phaesant's eye mark at their base and on their sides the parallel stripes that crackle their tender skins of mauve and grey. For the first few days you'll not be able to eat your fill. There's little to be said for your appetite if you can't polish off six, ten, or even a dozen figs with the chill of night stil upon them; they readily split apart and are as red inside as a pomegranate. They are not yet as runny with their full measure of honey-sweet stickiness, and are so much the easier to put in the mouth."
Colette ( 1873-1954 )
The Blue Lantern