We offer to you our personal collection of roses......This has been selected as a representative gathering of the whole GenusRosa, and assembles plants of distinct character, aesthetic merit, and historical significance. The many branches of the rose family-tree flourish here in all their remarkable diversity. Special emphasis is being devoted to the preservation of wild species from around the world, as well as a wide variety of cultivated roses from every era. Respected elders of this ancient tribe are joined in the garden by intriguing eccentrics that deserve more recognition. Whether magnificent old classics or the rarest of gems they are essential facets of the Rose.....
While in truth no individual garden could encompass all the marvels of this genus - we feel our chosen roses do possess outstanding quality, true beauty, and enduring value. Their number is four hundred, neither large nor small. More than most private gardeners would need or want, far less than public display gardens would consider necessary, and not nearly impressive enough for any claim of encyclopedic stature. Yet for us, each selection contributes one note to the tone of the garden, and each is distinguished by its own cachet.
"One single rose is all roses, and this particular one, unique, perfect,
a supple word with which to speak the text of all things."
- Rainier Maria Rilke ( 1875-1926 )
Superior merit in its class has been the prime consideration for each rose we've picked. Rosa knows a lot of tricks, and has displayed a stunning array during its celebrated run as horticultural star of the first magnitude. Over the centuries, the Rose has magically transformed itself to illuminate the face of profound pure beauty.
Rose colors - from ethereal to dazzling - span a remarkably rich spectrum: almost every subtle tint and dramatic shade can be seen. And who could explain the perfumes of the rose? Their allure is ineffable - merely say with awe that roses offer glorious fragrance of unforgettable quality. How many other plants boast fabulous thorns, or spring and autumn foliage flushed with luminous hues? Even the ripe fruit of certain rose types is brilliantly enticing and highly nutritious. Does any other flower show such capacity to shift shape? Petal counts from the simply single to the deeply double, elegantly scrolled buds or rounded rosettes, wild airy blooms and magnificent lush blossoms: All the permutations of loveliness will be found in this creature of infinite variety.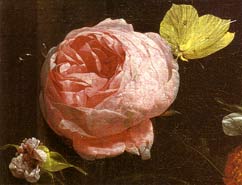 Not to mention versatility... The Rose may be renowned for its exquisite floral appeal, but the chameleon nature of the plant adds extra attraction. Consider the abundance of different growth habits offered by roses: we have tried to acknowledge and accommodate them all. No other garden plant comes in such an astounding range of sizes and classes. If expected to mask a wall, it can leap tall buildings in several bounds. Established in a sunny center of the landscape, it becomes a bright and genial presence. Nestled in a carefully chosen container, it can be as decorative as any other object d'art. In each guise, the rose fulfills its biological destiny as well as our designing agendas. Genetics at the service of Aesthetics. Whatever the set and scenario, it brings to the role lots of emotion. A rose always means something - even if it's JUST A ROSE.

A very wide natural range and a willing adaptability have made this plant a cherished companion throughout human history. We find the rose a constant dweller in cultivated space - from the temples of the long ago Mediterranean world to the cloisters of the High Middle Ages, from courtyards in Persia and India to the pleasure grounds of golden age China. Sacred in many times and places, it is the adornment of rustic doorways and the charm by the gateway of civilization, showing forth both the power to enchant and the power to endure. Renaissance is rose nature. Its character is one of endless renewal - in the seasonal growth of the individual plant and in the proliferating forms of the entire family. Scent embodies its essence; symbolism enhances its energy. The rose is ordinary ornamental.....grown in every garden - and extraordinary image.....glowing in the mind.
This special flower flourishes for the benefit and enjoyment of all.

View our full ROSE LIST
and let us know if we can be of service too.......





....."Behold the earth appareled with plants
...... -as with a robe of embroidered work"

John Gerard (1545 -1612)