There's no business like rose business....
About our Collection - and How to Place your Order
The roses of Greenmantle Garden have been acquired from a score of sources in a half dozen countries. A very high percentage of our rose foundation stock was originally imported from European nurseries; Canadian sources also provided a number of varieties in the beginning. Rare treasures have been obtained from internationally recognized botanical gardens in Great Britain, France, Germany, South Africa, and California. From Florida has come crucial propagating material - certified free of rose mosaic virus. And over the years, correspondence with individual specialists has secured many extraordinary plants for the Greenmantle Collection.....
"The whole point of collecting is not only one's enjoyment - but the learning of what happened
in this world creatively over the years: ...how one thing led to another........"
Artist, Collector & Philanthropist - Wright Saltus Ludington (1900-1992)
Our express aim has been to assemble a comprehensive collection of the Genus Rosa - guided by the ideals of authenticity and freedom from disease. Provenance of any variety is available upon request; we are always willing to respond to inquiries about any particular plant..... However, concern with origin cannot by itself insure correct identity or the healthiness of a plant: extensive study, observation and care are their essential support. Standards of health and nomenclatural accuracy can only be maintained through constant personal attention in garden and nursery.
The classic roses are historically important, genetically intricate, and incomparably beautiful. They are worthy of your attention - and we are pleased to offer this assemblage to discerning gardeners .....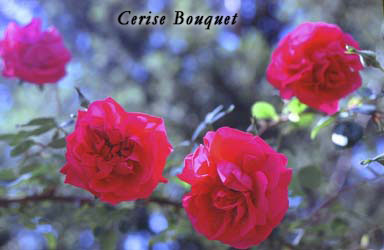 "... If you believe me, Live! .......Don't wait for tomorrow.
Gather this very day..the Roses of Life..."
Pierre de Ronsard (1524-1585)
PLEASE -

read all about HOW WE DO BUSINESS before ordering

Our rose nursery stock is propagated EXCLUSIVELY BY US from our collection of mother plants - all of which are monitored for freedom from signs of rose mosaic virus.

All of our rose plants are produced "ON THEIR OWN ROOTS"
(primarily from cuttings, and occasionally by layers.)

"The miraculous way in which the torch of life passes from one plant to another through the medium of small cuttings.....Theophrastus, 3rd Century BCE

They are grown OUTDOORS in TWO GALLON containers for a full season, under organic culture without the use of any chemical fertilizers, pesticides, fungicides, or herbicides. This generally results in large, well-rooted, and hardened-off plants ready for your garden. The size of young own root roses will vary according to the inherent genetic background of the individual variety.......... Here are six white roses of different type and growth habit as photographed in their two gallon containers at Greenmantle Nursery.

Species
Rosa soulieana

Sweetheart
White Cécile Brunner

Noisette
Lamarque

Rugosa
Blanc Double de Couberts



Bedding
Grüss an Aachen

Damask
Mme. Hardy
ORDERS ARE ACCEPTED YEAR ROUND
NO MINIMUM ORDER * ALL ROSES ARE $ 25.00 EACH
OUR SHIPPING SEASON EXTENDS FROM .JANUARY 1 ..until MAY 1
You may print out the ROSE ORDER FORM from our site
When placing an order PLEASE only include a deposit of. $5.00 per plant.

YOUR DEPOSIT(S) WILL BE DEDUCTED FROM YOUR FINAL INVOICE OR --will be refunded upon request ....

This is not an additional charge - only a token of serious intent...... Your order with deposit will reserve the roses requested. These advance orders receive priority on any waiting lists - in strict order of receipt of deposits. By the time of our actual shipping season, many roses - especially rare ones - may already be reserved and SOLD OUT....
You can call us at (707) 986-7504 :.....Preferably between
9 AM and 6 PM... PACIFIC TIME ....... to inquire about any variety.
Sorry - we do not communicate with customers by email, webmail or fax
Stock on hand changes constantly with every phone call and letter. Please get in touch with us to check on the status of roses you desire. Arrangements can then be made for reservation with deposit or full invoice. We take our main inventory in late Autumn - but a general idea of availability can be given at any time.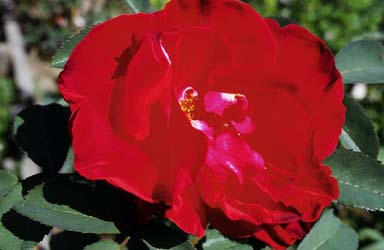 Waldfee
PAYMENT:

.

ALL OF OUR ROSES -

...

$25.00 per plant

INVOICES: In Autumn, we begin sending out Invoices for the balance due on advance rose orders.......& thereafter all new orders will be confirmed and invoiced through the end of our shipping season. PLEASE NOTE: Once you receive an Invoice, your immediate reply is appreciated. Roses cannot be held in reserve without prompt payment.......In all cases, the balance due must be paid prior to shipment.....
California orders will be charged 7.75% Sales Tax. on Roses at time of billing..
Please pay by Check or Money Order
We cannot accept payment by Credit Card...... Thank You
IMPORTANT: On our Rose List any plant marked with an asterisk * is NOT currently offered through the nursery - and we are not accepting orders or deposits for these roses. We appreciate your forbearance.......

Bridal Robe*
.....

SHIPPING INFORMATION

.

& CURRENT RATE SCHEDULE
Our roses are shipped only from January 1 until May 1. They are removed from their heavy two gallon containers - and the rootball of each plant is wrapped in a plastic bag and sealed at the throat with waterproof tape. All roses are pruned & ready for planting in your garden or re-potting in 3 to 5 gallon containers. Cultural instructions are sent with each shipment.
There is no extra handling charge......
California. Oregon, and Washington - By UPS Ground Due to the current dimension weight policy of United Parcel Service - We now offer a flat rate per our standard box sizes for shipment to all locations in the Pacific Coast states...
ONE THROUGH TEN ROSES : TOTAL FEE - $20.00
LARGER ORDERS - PLEASE CALL FOR QUOTE
All Other States - By U.S.P.S. Priority Mail (AIR)
FIRST ROSE - $20.00 . & EACH EXTRA ROSE + $3.00
Alaska and Hawaii - By custom arrangement ONLY...... Please Call.
SPECIAL NOTE:
Due to current phytosanitary regulations - we do not ship
roses to Florida…... Our Apologies !
The Sweetbrier Rose
'Greenmantle' in 1983

The Sweetbrier Rose
'Greenmantle' in 20003
...........................

.

OUR

..

GUARANTEE

..

TO

..

YOU
Greenmantle Nursery guarantees its stock to be correctly identified and correctly labeled. The plants we ship are healthy and viable, and are carefully packaged by us to arrive in this condition....... Please open your package as soon as you receive it - and inspect your plants. If you detect any problem at all with the roses, please inform us immediately so that we may assist you in sorting it out.
However - beyond that point - We cannot accept responsibility for the impact of factors outside our control : weather, cultural practices, soil conditions, and unruly animals - wild or domestic ........ everything that can happen once they're in your hands.
We care very much about every plant that we personally propagate, nurture and sell - and wish them to thrive in their new homes. If you have any questions relating to your plants purchased from Greenmantle Nursery - please feel free to call & consult with us.
Your satisfaction is important to us......