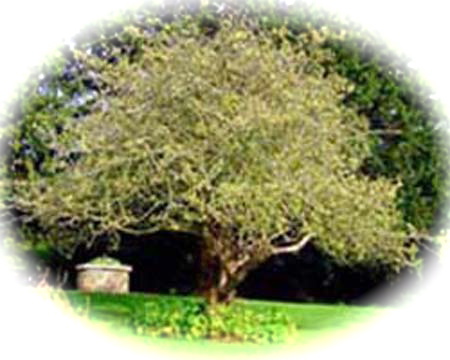 ATTENTION: DUE TO LIMITED INVENTORY AND A VERY LENGTHY WAITING LIST, WE ARE UNABLE TO ACCEPT NEW ORDERS AT THIS TIME. WE REGRET ANY DISAPPOINTMENT THIS MIGHT CAUSE AND THANK YOU ALL FOR YOUR PATIENCE........ PLEASE CHECK THIS PAGE AGAIN NEXT SEASON FOR AN UPDATE ON THIS RARE TREE.
* * * * * * * * * * *
In horticultural terms, the Glastonbury Thorn is Crataegus monogyna 'Biflora' .... a selected variety of the common, single-seeded English Hawthorn. Its official name 'Biflora' refers to a unique tendency to re-bloom ( or "pre-bloom") somewhat in mid-winter, typically around the time of the Winter Solstice. This unseasonable manifestation of white blossoms obviously grabbed ancient peoples' attention and inspired their imaginations to invent myth, legend, and religious iconography around this unusual tree.
Glastonbury Tor - surmounted now by the lone tower of St. Michael's Church. The strangely conical 518' hill was once surrounded by watery marshes which turned it into an island - ....
.the legendary Isle of Avalon.

Recorded in the Doomsday Book census of 1086 as the richest monastery in Britain, the burned ruins of Glastonbury Abbey are reputed to be the burial place of King Arthur and Queen Guinevere.
The best known and relevant story involves the fabled personage of Joseph of Arimathea, the saint credited with bringing Christianity - and the Holy Grail - to the British Isles. He was the uncle of Jesus' mother and the disciple responsible for preparing his great nephew's tomb. Joseph fled Jerusalem not long after the crucifixion and arrived by boat in Southern England some thirty years later. According to the legend, Joseph's boat sailed over the flat flooded Somerset Levels, coming to rest on Glastonbury Tor. Here Joseph is said to have implanted his staff in the ground on Christmas Day. Miraculously, this staff is said to have sprouted and bloomed, turning itself into the original Glastonbury Thorn tree ( also known as "the Holy Thorn")......
| | |
| --- | --- |
| | |
This miracle no doubt impressed the indigenous population of Celtic Druids who worshipped a Goddess associated with the towering trees of primeval forest groves. In fact, the Hawthorn had been a sacred tree to pre-Christian religions for millennia, so the Glastonbury Thorn represents a symbolic and tangible link between the old and new belief systems. And it is probably not coincidence that the locale around Glastonbury was the site of ancient Druidic temples. The Thorn tree growing at the Abbey itself was said to have survived into the 17th century - when the Puritans came to power and cut it down as a relic of nature worship. Its stump finally died in the mid 1800's - though the Glastonbury Thorn lives on in its offspring......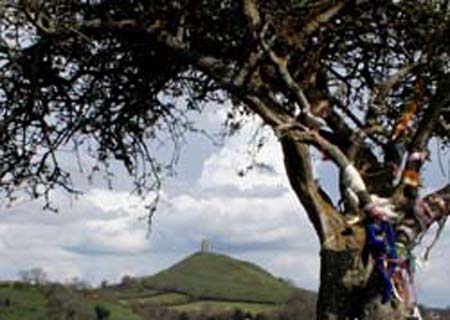 Glastonbury: ..Thorn and Tor
We might speculate that the twice-blooming variety arose in this vicinity as a sport of the common English Hawthorn - perhaps long before the Christian period. The Hawthorn has always been one of the most beautiful trees in the Rose family and was believed to be inhabited by a great nature spirit which imbued it with magical healing powers. The Greek word "Kratos" strength gave the tree its botanical name.... for the hardness of its wood, its ability to live for hundreds of years, and the usefulness of its red berries. The tree is a boon to wildlife, supporting many moths, butterflies, and types of birds. Hawthorns are quick growing, and once established, tolerant of a range of growing conditions: wind, wet, sun, shade, drought, & chalk. By a very long tradition........it is a plant that merits - indeed demands - our deep respect.
| | |
| --- | --- |
| | We will be offering a limited number of Glastonbury Thorn trees - grafted on roots of common Crataegus monogyna.......one year whips from $30.00; larger trees as available. Shipping charges (by UPS Ground) will depend on individual tree size and zone. Please call for further details ........ Our foundation propagating wood came by circuitous route from the National Cathedral in Washington D.C. - whose grounds are graced by a fine specimen. We are privileged to be able to make this rare tree a possibility for your own landscape. |
While the Glastonbury Thorn tends to bloom during the English winter (and ours), the additional crop of blossoms is not a sure thing - and depends somewhat on weather conditions: periods of intemperate cold could prevent this event. So the December blooms should be regarded as a small miracle of grace....
"Nature is a temple from whose living columns
Commingling voices emerge at times;
Here man wanders through forests of symbols
Which seem to observe him with familiar eyes."
Correspondences - Charles Baudelaire ( 1821-1867 )