Our Fruit Collection
An introduction and
history of our fruit work —
All Fruit-related Links run
on right side of each page
"Antique" Fruit for
Modern Orchards
The language of fruit
variety selection ......
the meaning and value
of edible "antiques"


Winter Banana Apple
Spotlight on selected varieties - and an archive of essays on topics of interest to fruit growers


Fruit FAQ
Detailed answers to many basic questions about propagating, pruning & growing fruit trees
An illustrated discussion of
the best way to obtain the
variety / rootstock combo of
your choice at an affordable
price and proper shipping time
A detailed assessment
of the challenge of
"going natural" —
with constructive
suggestions......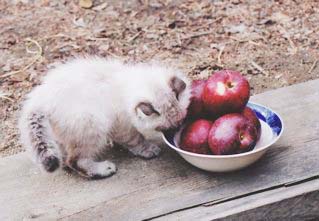 Complete alphabetical
listing of 300 varieties —
with classic illustrations
from Beach's Apples of NY
How to choose the best
rootstock for your own
conditions - plus an essay
"In Praise of Standards"
The Ettersburg Apple Legacy:
The Original Etter Apples
A history of Albert Etter
pioneer fruit breeder and
creator of some of the best
apples you could ever eat . . .
Descriptions and pictures
of the nine original Etter
apple introductions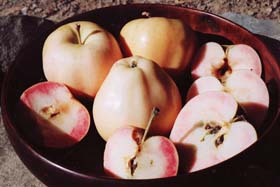 The Greenmantle /Etter
Selections
The story of our work
exploring Albert Etter's
experimental orchard . . .
selecting and introducing
fourteen unique 'new'
varieties of Etter's creation —
all available nowhere else:
Our own selections of seven
pink-fleshed varieties with
remarkable color and flavor
PLUS
Our own selections of seven
exquisite small apples of
superlative taste and texture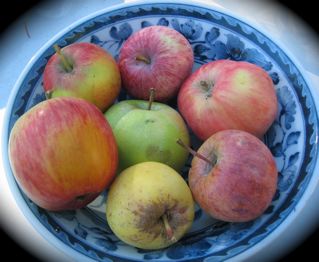 A large list of traditional
varieties for hard cider
How we do business:
Our guarantee, prices,
and shipping rates —
please read BEFORE
using our printable.....
If you can't use this, please
put all required information
on a regular piece of paper
Call us about any questions......

These Fruit Links offer information only - (since we no longer propagate them)
Pears
Asian Pears
Quinces
Plums
Cherries
Peaches
Figs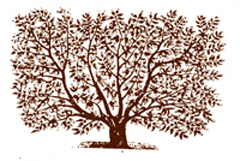 A page of Links to websites of fruit-focused Societies, Organizations & Resources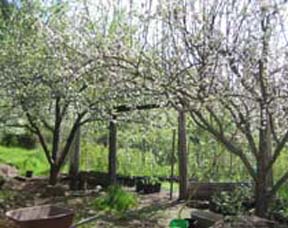 "Classification is Ariadne's
thread through the labyrinth
of the natural world..."

—George Sand (1804-1876)
On our
Homepage
Information on us,
our Catalog, and our
horticultural work with
Fruit and Roses . . .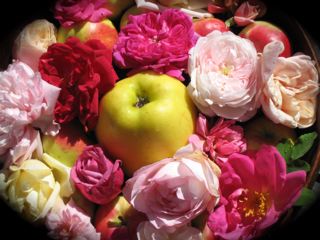 Including main Links to some of the most important and useful of our webpages....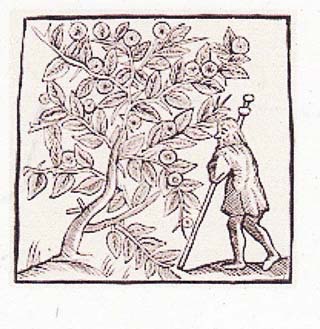 Crataegus monogyna 'Biflora'
Greenmantle is privileged to offer this legendary twice-blooming Hawthorn tree of old England - which has been held sacred by many diverse ancient traditions.......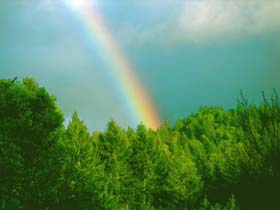 "You ask me why I dwell in these
azure mountains... It is altogether
a different world here."
Li Po (701 - 762)
Summer and Autumn
offerings from our collection
of one hundred classics
from twenty genera: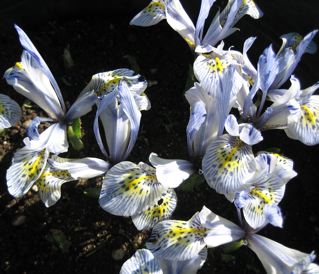 Wild, genuinely old or just old-fashioned ... Discover and grow these gracious ornamentals -
Bulbs can be the easiest and most adaptable of garden plants - or some of the most challenging subjects in horticulture - but they are always endearing, surprising the gardener each year.
"Perfumes are the feelings of flowers."
Heinrich Heine (1797-1856)
Occasionally - we offer plants for sale from our collections of intensely fragrant heirloom Parma Violets, antique Dianthus cultivars, and other especially beautiful perennials thru this page.....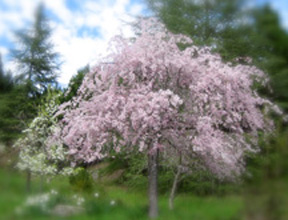 Greenmantle
Homepage

ends with a description
of our climate . . . and
Organic Culture —
where we live, what
the weather's like and
how we garden here.....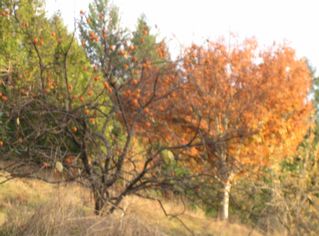 "It has always pleased me to elevate plants in the scale of organized beings......"
Charles Darwin (1809-1882)
in his Autobiography
An introduction to our Rose work and an appreciation of this flower's qualities - All Rose-related Links run on right side of pages
All 400 varieties we grow arranged by their class....plus pictures of many of our roses.
Individual Links with full descriptive and historical information on each rose we offer are currently being built ....please tune in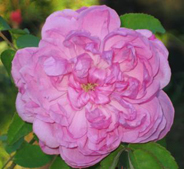 A brief history of the
botanical development of
Roses - ancient and modern
...... A personal evaluation
with classic illustrations
Portraits and history
of special varieties
we'd like to bring to
your attention......
& Archives of our
horticultural essays
on important or
controversial Rose
topics —
Detailed answers to questions about every aspect of rose growing: own-root vs. budded, hardiness, rose mosaic virus, feeding, pruning and best types for your zone or conditions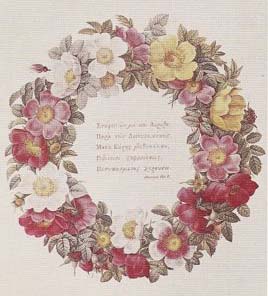 Our reviews of two dozen
outstanding volumes on
old and new Roses - plus
a long list of gardening
books that we really like
and highly recommend
Some theory — and a
lot of practical tips —
on how to achieve
this worthy ideal....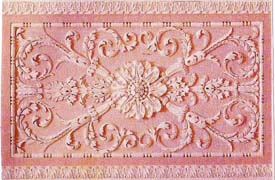 Making Life Rosy... A page devoted to the cultural history of the Rose and its use for cosmetic and culinary purposes - with a discussion of the superlative perfumes and spectacular fruits it offers - and the many ways to enjoy them in your own life.....
Also - recommendations of the best
varieties for both scent & hips
.....and how these types may be
accommodated in the Garden.
How we do business:
Our guarantee, prices,
and shipping rates —
Please read BEFORE
using our printable .....
If you can't use this, please put all required information on a regular piece of paper.
Call us about any questions.....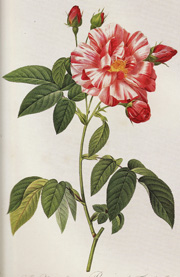 Also — Rose Links to each type provide lists
of our varieties in that particular category .
We will be posting information on the
history and habits of each class:
Albas
Bedding Roses
Bourbons
Centifolias
Chinas
Climbers
Damasks
Gallicas
Hybrid Musks
Hybrid Perpetuals
Mosses
Noisettes / Cl. Teas
Portlands
Ramblers
Rugosas
Special Shrubs
Species
Sweet Briers
Sweethearts
Tea Roses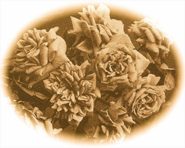 A page of Links to the websites of selected Societies, Forums, and Gardens